Thanks for all your help on the chandelier, I think or now I will leave it. I do like the contrast against all the white around here not that there could ever be TOO much white!
I made a crown yesterday for my little doll head here with some vintage wallpaper, old tinsel and pieces of an old doll dress .
And I found this a 1930's vintage wedding dress and just LOOK at the trim on this , oh my .I am really thinking about cutting it up and using the lace and trim, what do you think?? It's not like I am going to wear this although I certainly would if I was to be getting married. Oh please help me decide!!!
And you can never have too many of these .I really like this blue color ,more and more .This old shoe bag has lovely stitched detail and will help out alot once I get it hung up in the studio and stuffed with goodies!
I think I am having an organizing fetish lately, I bought the shoe bag and this old vintage drawers from an old sewing machine thingy. I just love the chippy old paint.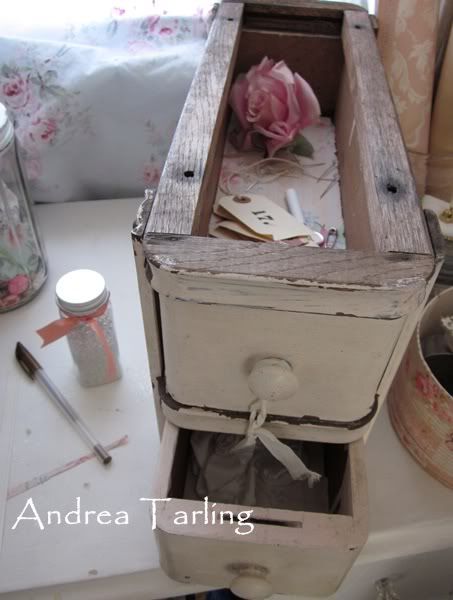 Remember about 3 posts down ,theres still time to sign up for show what you create! And I can't wait to show you what I came up with!