I had made this using pieces from that vintage wedding dress I showed you, I did finally cut it, see the cut little pom pom trim. I sewed it to make it bunch up a bit, like ruffles and added it around this old frame .I also had made this for the show what you create blog party, but didn't get a chance to photograph it, so here it is!
Here is the whole view ,I think I'll use it when I'll be a vendor at the next Funky Junk show. And hang it from my new vintage dress form I picked up this weekend.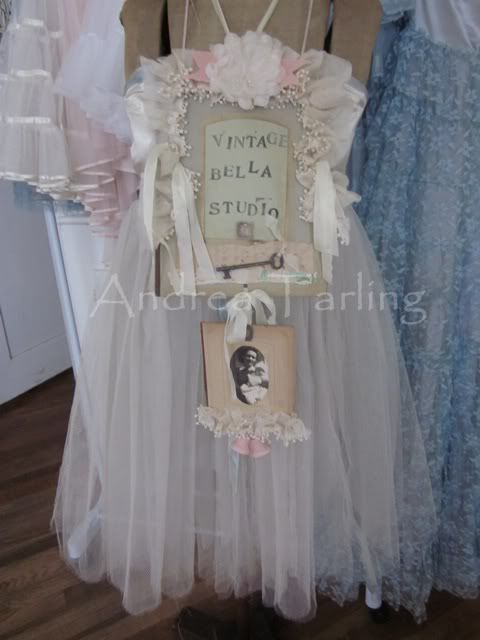 Isn't it pretty! It stands in my living room right now becasue my studio is already jam packed with junk . I put one of the old dresses I picked up at the flea on her, with one of my favorite old millinery flowers.
Do you ever go shopping and after you wish you would have bought that thing you seen??Well that was the case with this old vintage dress.I had seen it at the flea and was kicking myself when I got home for not buying it, but luckily I got the vendors card and walla I contacted her and bought it .I felt so lucky! I think I have a vintage dress addiction!
And at the same little shop I picked up the dress form I found this cute little old scale. I just love it .It sits on my kitchen table ,I had one but it wasn't as cute as this one, so I sold the other.
Is there anyone else who loved old dolls like I do??I am sure I am not the only one, right? Well a new antique shop opened up in town and yep you guessed it I had to buy these.The look darling up against the white bedding.Sigh....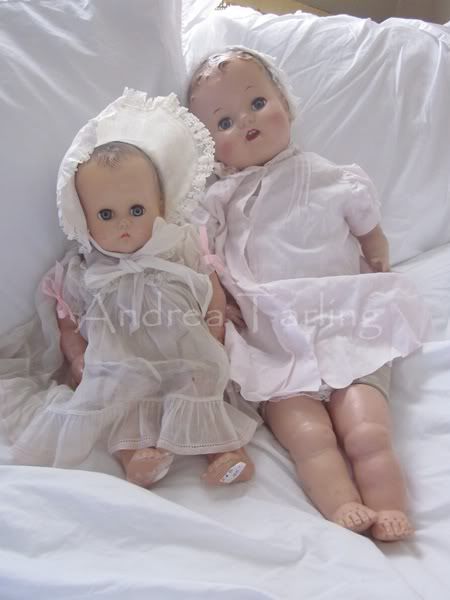 Thanks to everyone who created with me on Friday ,I tried to visit as many of you as I could .I loved all the creativeness! I have a big news ,I can hardly wait to share with you ,but I'll have to wait even though I am not very good at keeping surprises!