Show what you create today and we all create something! I am posting the night before the actual party because I am a busy mama in the morning!
Here is what I created ! I turned a vintage honeycomb bell thingy into a sweet basket!By turning it upside down and gluing it to a heavy cardboard like base.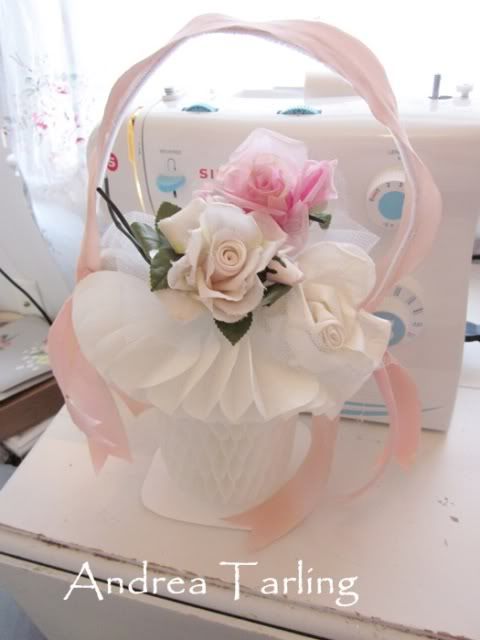 I wrapped a handle over it with vintage velvet and used pipe cleaners to hold the ribbon up in place! You got to love hot glue!I then filled the top of the basket with vintage blue tulle and added a few of my favorite millinery flowers! Isn't it pretty! I plan on making more of these!
Be sure to visit the other creations today! And happy creating ..We are all creative!
http://www.sassyminidolls.blogspot.com/
http://www.lifeinmystudio.blogspot.com/
http://www.talesfromanoccottage.blogspot.com/
http://www.vintagedragonfly.blogspot.com/
http://www.suziebuttoncreations.blogspot.com/
http://www.artjoystuff.blogspot.com/
http://www.outonawhimstudio.blogspot.com/
http://www.keepinupwiththetatums.blogspot.com/
http://www.lemoncholys.blogspot.com/
http://www.icandychristinaj.blogspot.com/
http://www.vintagebluestudio.typepad.com/
http://www.greetingsfromgeralyn.blogspot.com/
http://www.avintagemom.blogspot.com/
http://www.carouseldreams-tina.blogspot.com/
http://www.justagirl.typepad.com/
http://www.craftygallindaonthemove.blogspot.com/
http://www.zany-mayd.blogspot.com/
http://www.jessicarodarte.blogspot.com/
http://www.debbiedemmers-lujan.blogspot.com/
http://www.creativerantsfromnerissa.blogspot.com/
http://www.filigreemoon.blogspot.com/
www.remnantsofolde.com/2010/05/19/news-and-such
http://www.katsuijewelry.blogspot.com/
http://www.connie-livingbeautifully.blogspot.com/
http://www.kristabelleburgeoning.blogspot.com/
http://web.me.com/vintagefindings/Vintage_Findings/Welcome.html