It was a busy weekend at the Barn with my friend Jenny, I managed to remember my camera this time.The place was packed with goodies with about 1/2 the barn inside was set up inside also.Jenny is my sweetest friend , I love hanging out at the barn with her!
I did find something to bring home like this sweet pillow .How could one say no to this!
It looks good in my living room and after looking at my own photos of my living room , I decided I needed a real sofa. So I found an over sized white sofa thats really cozy. So that should be here this week, once I can get it home, I can't wait and also take more pictures, my living room seemed to look really bare to me, the ugly computer is on the other side of the room with the tv. I love the little settee that I rescued , but it is just too small for the living room. I think I'll use it in my bedroom instead.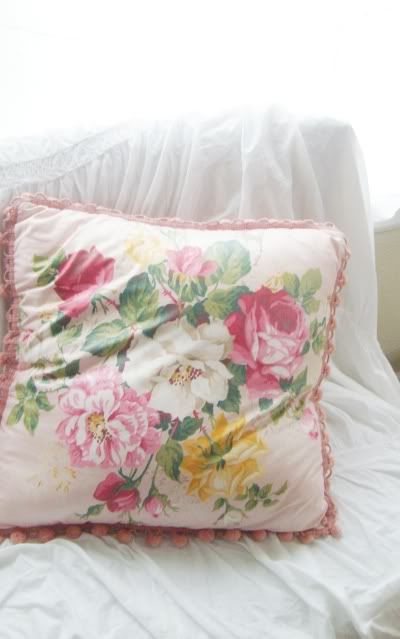 I also added this to the small window in the living room that overlooks the day porch. A little more pretty for the living room!I have another crinoline thats really blue and SUPER full, I may trade that in on a pretty white one like this pink one that I love.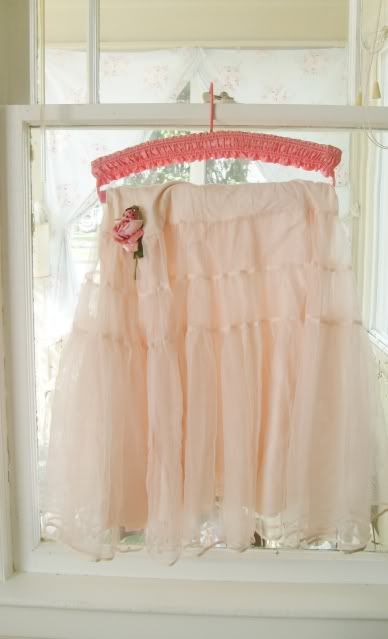 I know you've all been waiting to see where I create , my little studio is actually in our breakfast nook that is just perfect for all my junk and too small for a table with 7 needed chairs. So here it is , I call it a "working" studio because there is stuff everywhere, i always have atleast 4 or 5 projects going at one time!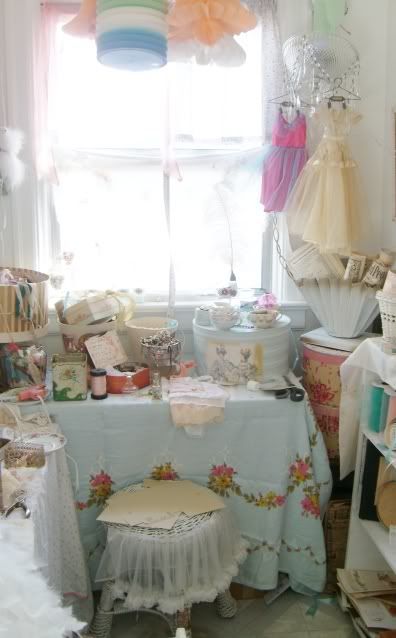 two sweet old vintage doll prom dresses hang from this Italian chandelier, I really have a thing for pretty old doll clothes!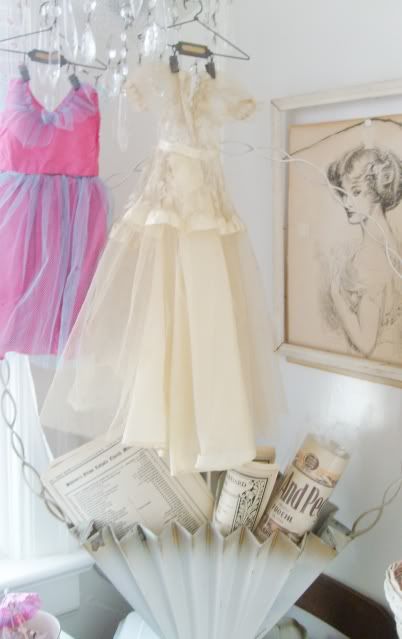 More stuff here, old teacups filled with embellishments ,glitter,millinery, buttons ...Just stuff everywhere!
Looking at all this makes me want to go make something and thats my whole point in decorating this room, I also like to store things in old hat boxes, like tulle,papers, knick knack stuff I amy need.
Pretty ~ Pretty~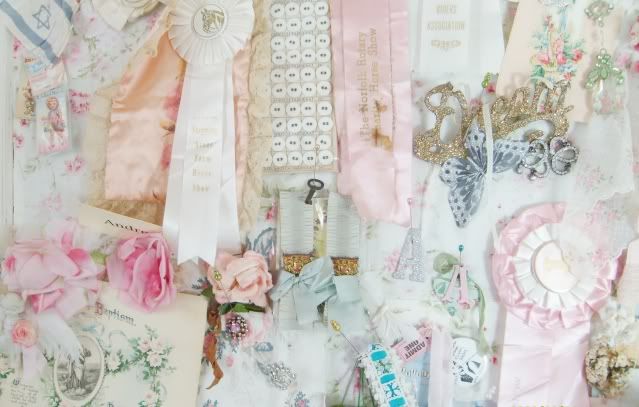 See that little baby old key below the buttons,I had picked that up at a yard sale this summer, and one of the kids a few weeks ago locked the bathroom door, well this house was built in 1930's so it has the old key hole locks. I was desperate to figure something out, the butter knife didn't work , and then a light bulb came on and I remembered I had this key and it worked! Who knew I would actually need this for something besides art!
I hope you enjoyed the little tour of my craft room! xo Andrea
P.S( I used photobucket to make the pics bigger but it cuts off some of the picture does anyone know how to fix this???Maybe I could just upload the pics the regular way along with the bigger ones so you can see the full picture?)