Made some valentines today for the shop, but I want to keep them, there so cute .
Thanks for all your comments on my last post and all your ideas for the magazine piles.. I think I am going to go through all my magazines and create an inspiring journal, just one place to go instead of going through every magazine to find one thing. All the magazines except the Somerset ones. Those to me are like books.Maybe a sweet little decorating journal with a cover like this only maybe with a chandelier on front instead of this sweet little girl. Here is a little journal I made. I think is showed you the cover before but I added a picture and the words my little journal along with some petite tinsel string.
I love the way it turned out and it makes me want to make more, using scraps of my vintage wallpapers along with other little vintage tidbits.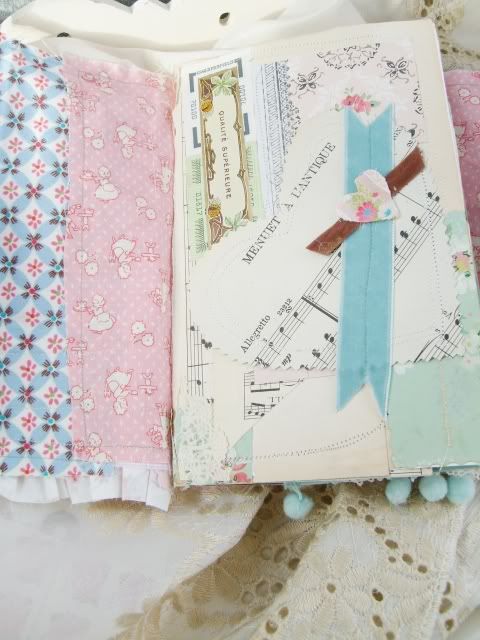 Not sure what I'll doodle in it? Do you journal and if so what do you journal about???
Do you use markers,pens, pencils? paint?Each page has been stitched with my sewing machine and with all these blank pages I wonder what should I do next?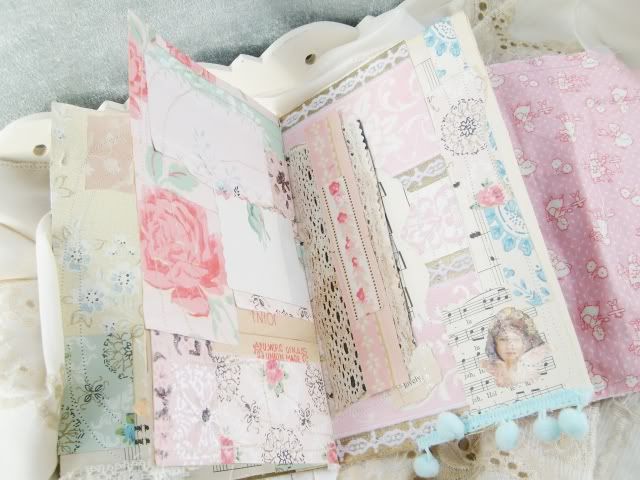 I also used a whole lot of glue sticks too! I would love to know about your journaling and what should fill these pages.Nothing or daydreams of wishful thinking, flea market adventures???
Heres one page I did for a the journal, but did not sew it in. I decided to go with all the pages blank. Not sure if I should have used markers instead of pen? What do you think?I wrote Gracie loves elmo, her gameboy and mommy too? I think I need some journaling help!! So help me!!