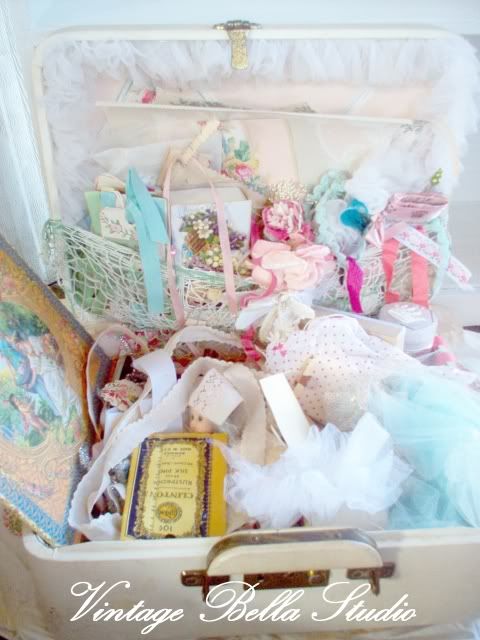 A sweet little treasure I found last weekend , a cute little vintage suitcase in a pale shade of white . I started by covering the inside with vintage wallpaper, ( maybe I should have also taken a picture without all the pretty stuff inside) but you can kind of see some on the inside lid. Then I wanted to make a pocket on the inside of the suitcase lid and I chose a pale green vintage crocheted doily and folded it in half and then with a hot glue gun I glued it in place really tight. I wanted to be able to see all the pretty things in the pocket and with this I can !
I also trimmed the inside of the lid with a vintage trim taken from an old prom dress , it really made it more frilly, I am really loving tulle lately!! Inside we have velvet flowers , velvet trims and tea stained laces with vintage wallpaper and tags already made and ready to give. Ribbons, trims,
millinery flowers and little vintage trinkets to embellish things with.It's not very tidy but it look so pretty this way ~
Picked up this pretty picture at a sale , I mostly love the frame and it is in really good condition . It has such lovely details on it. And this sweet floral vintage tabelcloth that I picked up for only 50 cents . It will be perfect for the table outside on a sunny day with some pink lemonade.
I would probably layer it with a lace one to drape down from underneath this one.It was finally a sunny weekend here , getting ready for the sale at Jenny's barn . Making up little flower pots for the garden using vintage containers filled with forget me nots and moss. I like making up cute little garden pots filled with flowers out of vintage containers like, old baskets baby containers and even little teacups . They would be pretty set on a table outside in the summer for a simple table arrangment~