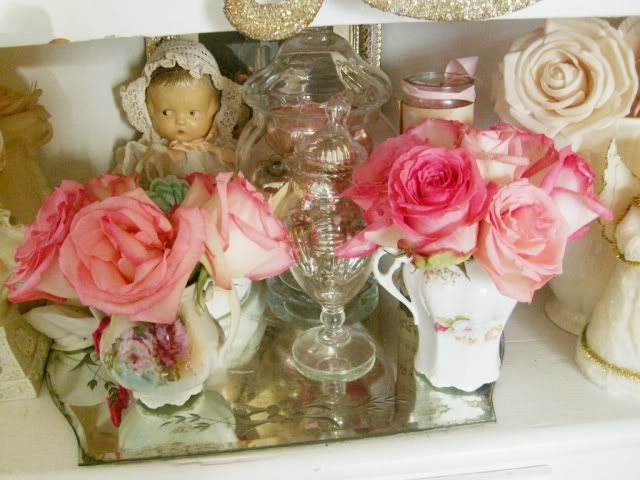 I've been a busy girl filling apothecary jars with mercury glass ornaments and old shiny brites in my favorite colors...Also the winner for the Audrey Bag is # 3 Lori Karla! Congratulations Lori!The one thing about giveaways is that i wish everyone could be a winner! And you all are winners to me! xoxo
Pretty~Pretty~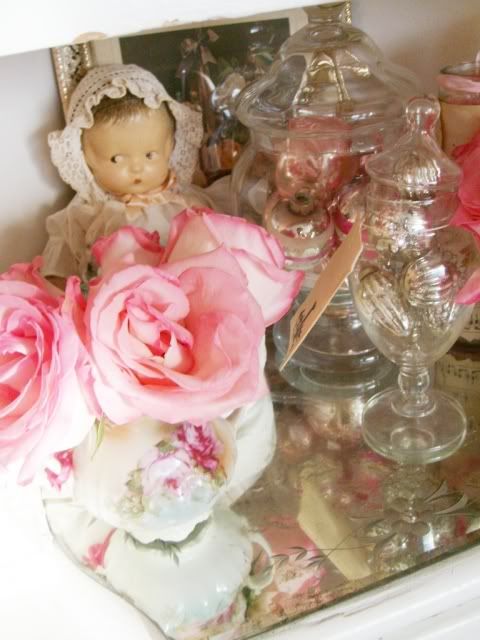 My sweet bought me some roses. They help my calm my nerves since next Thursday I'll be going in for a little surgery! Yikes! Makes me nervous!!! My hernia needs to be repaired , right now I can't lift anything more than 10 pounds and it's driving me nuts!! Considering my little baby doll who's two now weighs about 30 pounds so I can't even pick her up for a huggy!
Anyways ~ I did a small makeover to my studio ,after seeing pictures of it I wasn't happy with the way it looked. One thing I have realized is that taking a photo of your room and then looking at it that way can really make you see things you may not see otherwise.
A sweet little glass cake plate full of some of my prettiest old earrings,I just can't get enough of !! And my favorite candle holder ,this sweet angel, it makes me happy looking at it, so I keep it in my studio where i do spend alot of time.
Has anyone else started bringing christmas stuff out like I have?? My husband was making fun of me saying " we don't celebrate 25 days of christmas ,we more like celebrate 100 days of christmas!" I just told him it only comes once of year and I LOVE christmas!!! On Thanksgiving I am already planning our trip to the tree farm, the tree will officially be up that day!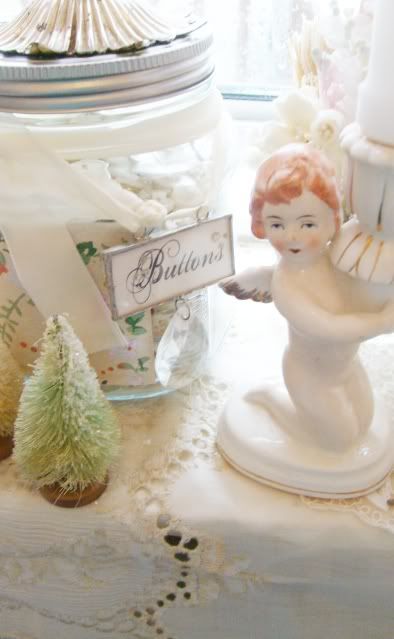 So I have been fixing these sweet little trees up! I practically got robbed when my Mom came over she loved them, so I let her have one, but only one! I am a hoarder, don't you know!
And a picture of the studio,Instead of a L shape for the tables,I changed it to tables down both sides with a shelf down the middle. I do really like it better, what do you think? Also for some reason my camera is on the blink. The picture is so yellowy!

It's messy but a good messy! Any who will be back with more!!! xoxo Andrea