An
other inspiring issue from Stampington, I love the little purses on the front!And here is what I created for this special issue. I just love Audrey Hepburn, her style is so elegant.She was wearing a black cocktail style dress and I gave her a soft vintage prom look ~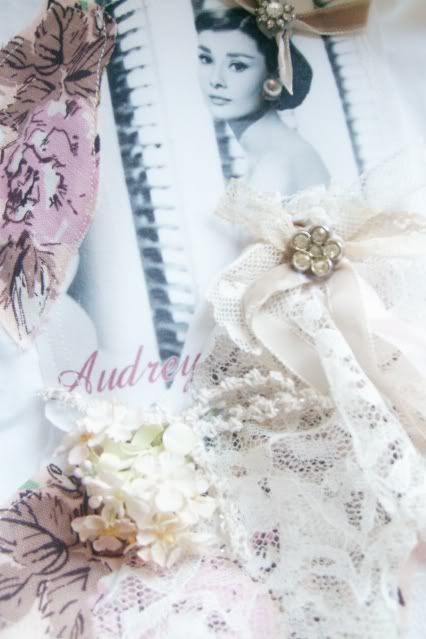 With old rhinestones,lace and trims and a bouquet of millinery flowers.
AND TO CELEBRATE I WILL CREATE ONE LUCKY WINNER THERE VERY OWN AUDREY BAG SIMILAR TO THIS ONE OR I MAY JUST GIVE THIS ONE AWAY!!!!!! ~~~ALL YOU HAVE TO IS LEAVE A COMMENT AND FOR AN EXTRA ENTRY BLOG ABOUT THE GIVEAWAY AND POST HERE AGAIN FOR TWO CHANCES TO WIN!!!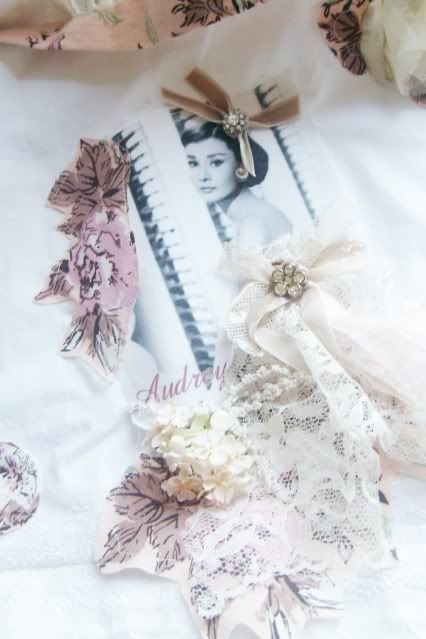 I actually made this with a Simply shabby chic white ruffled pillowcase so that the ruffles would hang at the bottom of the purse.
I also made this one too FOR THIS ISSUE with a pretty velvet bow from an old millinery hat,pretty fabric that I wish I had more of and lots of stitches on worn tea stained linen fabric.
I really love this bag ~old buttons trim and stitches~
AND FOR A THIRD ENTRY TO WIN THE AUDREY BAG FOLLOW THIS
AND POST AGAIN FOR A THIRD
ENTRY! WINNER WILL BE RANDOMLY