These girls wanted makeovers so thats what I gave them, they traded in there vintage crocheted dresses for vintage linens ,fluffy ruffled crepe ruffles with ribbons, velvet millinery flowers and authentic pale pink vintage pearls from my stash~ So lovely and sweet~This blue eyed doll is holding a glittered bird with vintage screds and the other hand is a tied on bouquet of millinery flowers with ribbon, so precious!
She holds the prettiest vintage millinery rose with text from a vintage anne of green gables book thats says "sounds so romantic" She has pale pink pearl earings with her gown made of tea stained vintage linens and ribbons.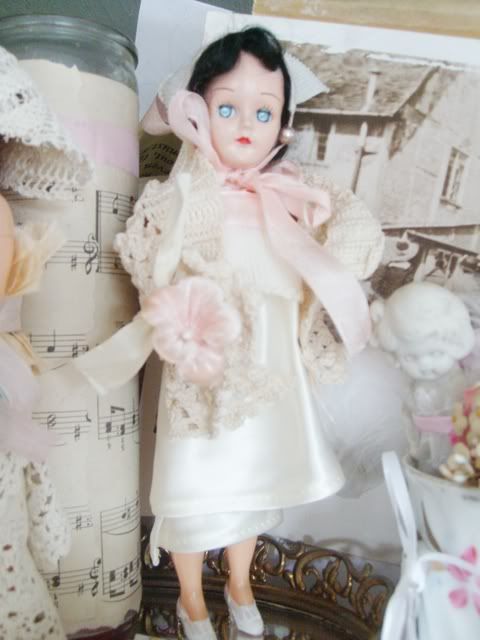 very glamourous with her satin dress and ribbon tied velvet millinery flower toher wrist, with authentic pale pink pearl earings, she is very lovely with her pretty blue eyes. This one I love so much I am keeping her , i found this dress awhile back at an antique mall and used it forher, she also has a pretty satin blue ribbon,vintage lace bonnet and carries a bunch of posies with a vintage broach .I love the layers of ruffled tulle withr ibboned edges.
And these shoes I LOVE from anthropologie! I am so ordering these ! Got my catalog in the mail yesterday! Talk to ya soon! Balk to creating more paper treats and vintage sweets!