Everything is coming along nicely ~ especially with inspiration from this.I am hoping she'll come out with some more dvd's too! I chose the two day delivery but it was worth every penny!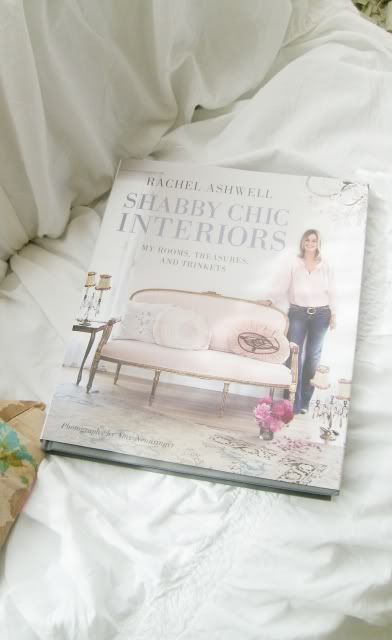 My little couch is an old blue velvet settee saved from the roadside , however does have a tiny repair on the top backside so I have covered it with this pretty duvet from Rachel Ashwell's simply shabby chic collection.It looks pretty and inviting.I am having so much fun decorating and creating!
A far away glance, there is so much light that comes in through this window with an old vintage tablecloth tacked up.
And we have a new addition to the family.I just fell in love with this chandelier when I seen it at a local antique shop . I just can't stop staring at it!It really does complete my living room.
Here is a further away look, but a little blurry from all that sun that comes in that window!
I just love my end result, simple ,clean and clutter free.I love pretty things grouped together, but sometimes too much is just that too much for me with the exception of my craft room, now I can hardly get around in there!!!You can never have too much crafty things to play with! I have also decided to redo the day porch I showed in a previous post. The Bella rose curtains will come down and be made into cushions and I will start over.
I love the day porch it can be used for so many things, not sure what yet , may use it to store all my extra treasures. As I like to keep the inside pretty simple like you see.
In the opposite corner of the chandelier is a built in hutch from 1930', the year this home was built. I just love it and I am still rearranging things inside, so this may have a new look in the near future.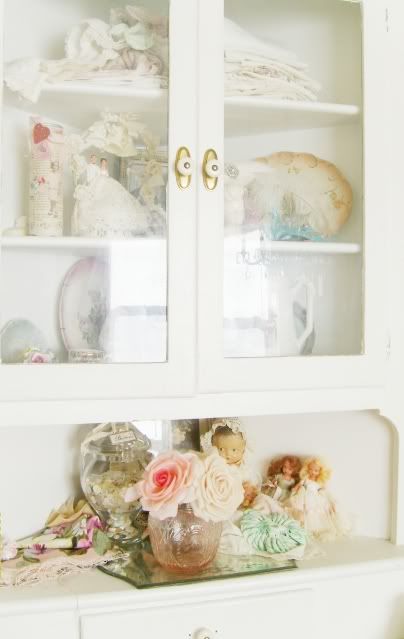 I did however manage to get in some creating time , like these sweet christmas cards I made for my shop that you can find
here
. I made this one into a set from a sweet old card my sweet friend Lili M. sent me in our last swap. I bought a new scanner so I have been scanning like crazy , even was up last night I couldn't sleep scanning at 4 am! And making cards, it was nice with the house so quiet, it was just me and my glitter and glue!This one has the prettiest old vintage tinsel I have ever seen.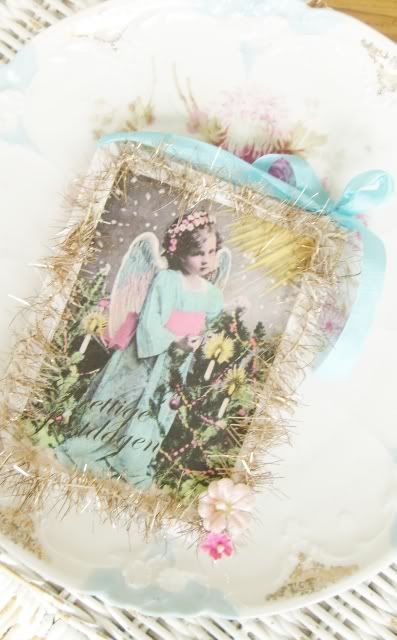 And this one from an old German postcard from my collection.So pretty with it's pink touches.I also made some from some of my prettiest vintage wallpaper .These make giving extra special, I know I can't wait for christmas , it is my favorite time of the year to decorate.