*~ Come on In , Put your feet up and stay awhile~*
Inspired by these beautiful colors and textures of satin ruffled gowns and feathered floppy flowered hats ~ A lavish lifestyle fit for a queen filled with only pretty things~
Actually my crown started with this mesh wire found in my sister's yard, I asked her if I could have it and of course she looked at me funny, not knowing what I had in mind once I seen it. I eagerly brought it home . Once I got the wire together in the shape I wanted (it was a perfect fit Of course just for a queen) I started by taking long thin strips of this pretty aqua tulle and ruffled it with my sewing machine to create similiar ruffles you would find on an old prom dress It takes a little bit to create a full ruffle .
I glued that on and then using a little bit of white ruffled tulle that was salvaged from an old prom dress , I used to circle the top ~ After that I started by embellishing the bottom with vintage velvet millinery flowers, so sweet and delicate all on there on, I really do love the effect these have on any project! I added a few vintage rhinestones from old buttons and pieces taken from old jewelry along with german glass glittered stars and old mercury glass beads taken from old ornaments to add a little sparkle. I wanted this to have a little gardenie feel to it so I added this fluffy glittered feathered bird and it took some gluin' to get this little guy to stay on!
An old floppy velvet millinery flowers dangles below with a crepe ruffled chandelier picture with a chandelier crystal that hangs from below, it just seemed to fit ~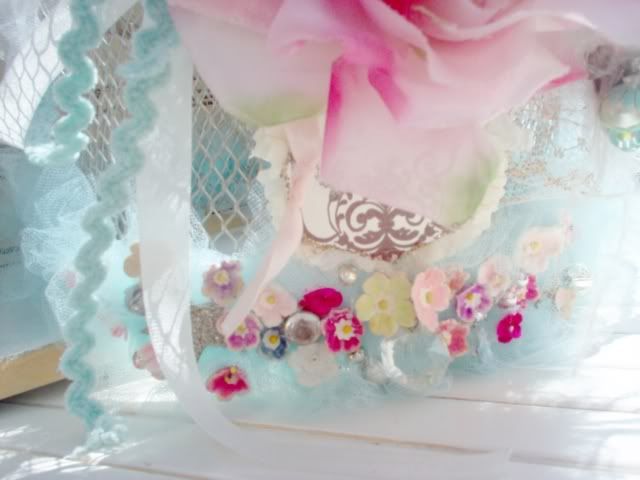 I added velvet strawberries and crinkled ribbons along with a draping velvet ribbon that circles and drapes the entire top of the crown.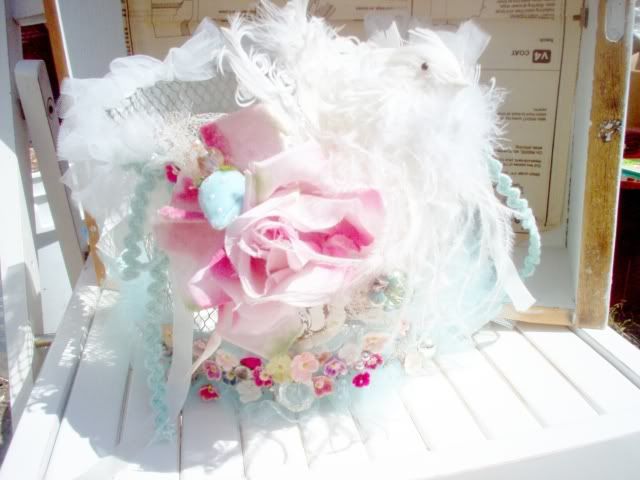 A better look at the chandelier and also a very pretty old earring attached under the rose ~with fluffy soft dangling feathers ~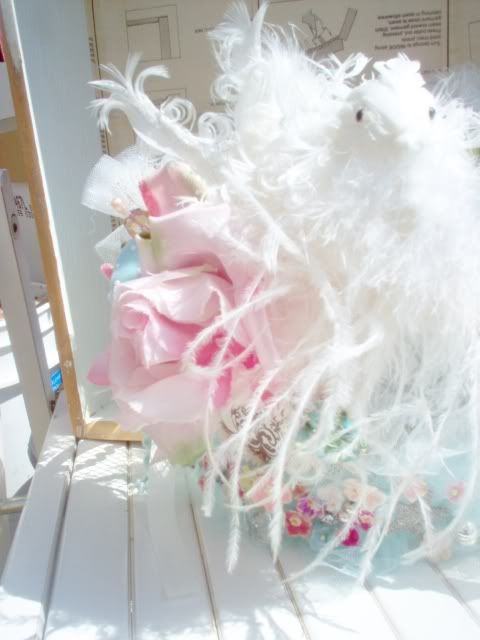 A pretty feathered nest for this birdie!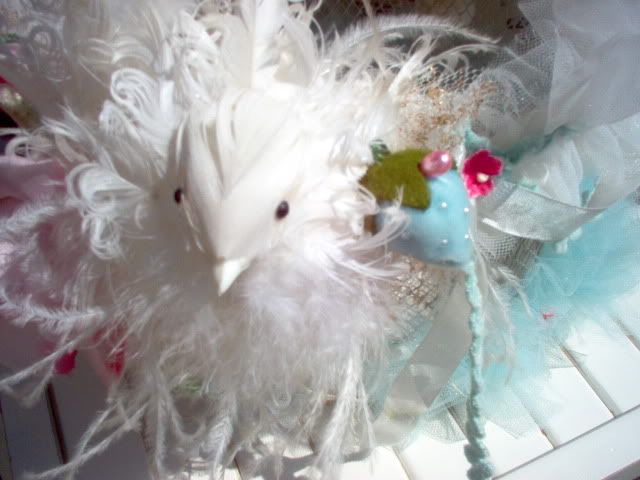 This actually does fit me just perfectly ~
A look at the backside~ I covered up the seam in the back with an old piece of pom pom trim with pink ric rac on top~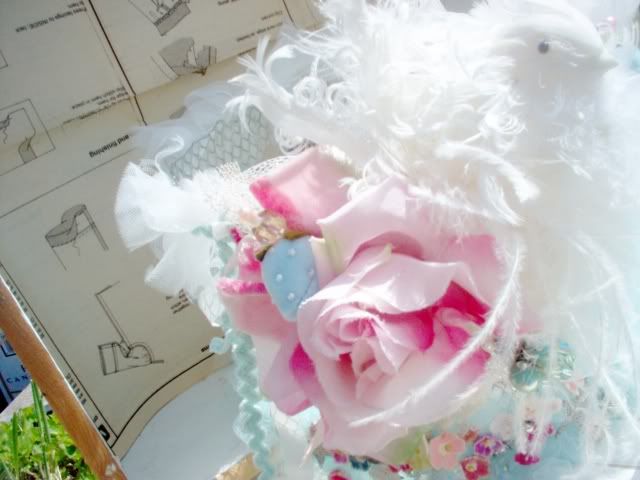 Be sure to check out all my other queenie friends~